Jewel Series
Price includes:
1 + 2 COMPLIMENTARY Sets of Jewel Filters (worth $720) that can last for 3 years!

1 + 2 Years of Extended Warranty (worth $200)
Slimmest Tankless Water Dispenser in Singapore. 1st Motorless Hot/Cold model that is ideal for homes with Natural Antioxidant, Alkaline water (Non-alkaline option available)
13cm – fits effortlessly in limited spaces

Eco-Friendly: 0 standby energy consumption

7 Instant Hot/Cold Temperatures – 7-90°C

Filter Change Indicator + Self-changeable Filters

Brimming with antioxidants, free of bacteria & contaminants

0 stagnant water, even in tubings – water is never reused

Infinite quantity selection suits diverse household needs

Child-lock Safety Feature: added protection against hot water accidents
Jewel Dispensers come in 5 refreshing colours, you're bound to find one perfect for you!
7 INSTANT HOT/COLD TEMPERATURES
Wide range of diverse temperatures! No longer need to wait for your water to boil or chill.
Enjoy your Hot Maggie at Hot Level 3, Chilled Milo at Cold Level 3 or Honey at Ambient at any time of the day!
Room Temperature
Hot (Levels 1- 3) 40 – 90 °
Cold (Levels 1- 3) 7 – 17 °

There's also a Child-lock function for Hot temperatures too!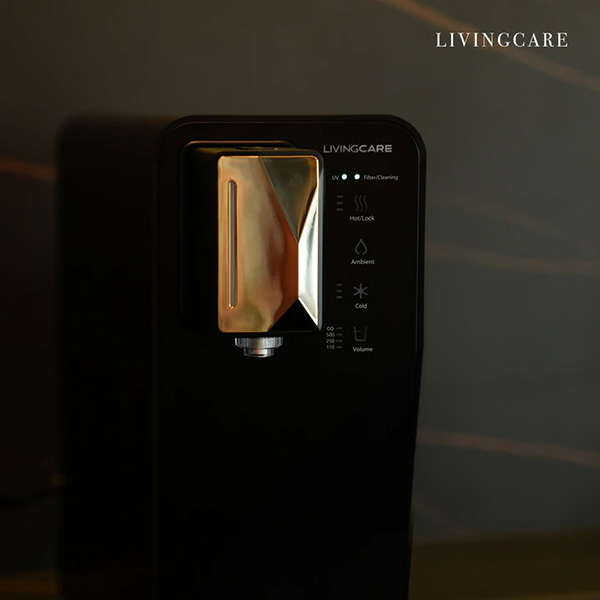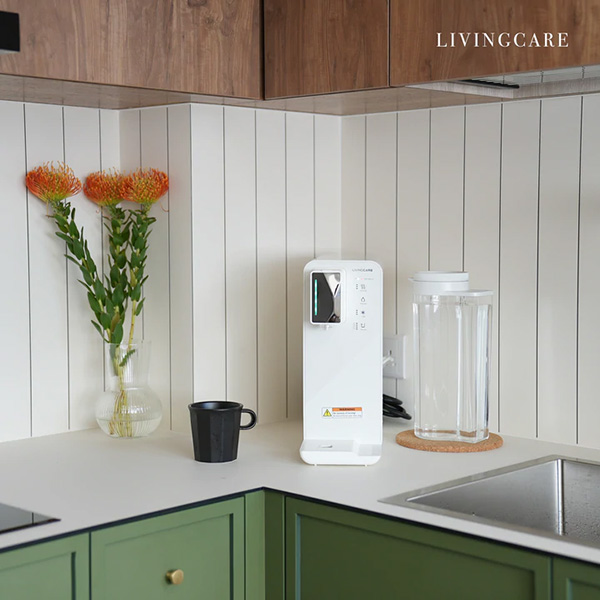 MOTORLESS ALKALINE DISPENSER
Brimming with antioxidants, for a healthy lifestyle. 99% free of bacteria & contaminants!
Clean and safe for everyone even babies & toddlers! Perfect for milk formula too!
Non-alkaline option is available too!
SLIMMEST TANKLESS DISPENSER
With the dimension of W 13cm x D 39 cm x H 32cm and weight of 5.8 KG it doesn't occupy much space and it's great for small kitchens!
Auto Self-Cleaning Function, can prolong the lifespan of the filters and the Filter Cleaning Indicator will alert you whenever it's time to change.
The tankless feature does not store any stagnant water, even in the tubings hence you will have fresh alkaline water with every use!
ENERGY SAVING MODE
Goes into a idle mode when not in use! Power consumption is less than $3/month.
SIMPLE & CONVENIENT
Twist & Turn Filters
Changing your filters is as easy as ABC! Open the cap, place it at the connector, twist & turn and you're good to go!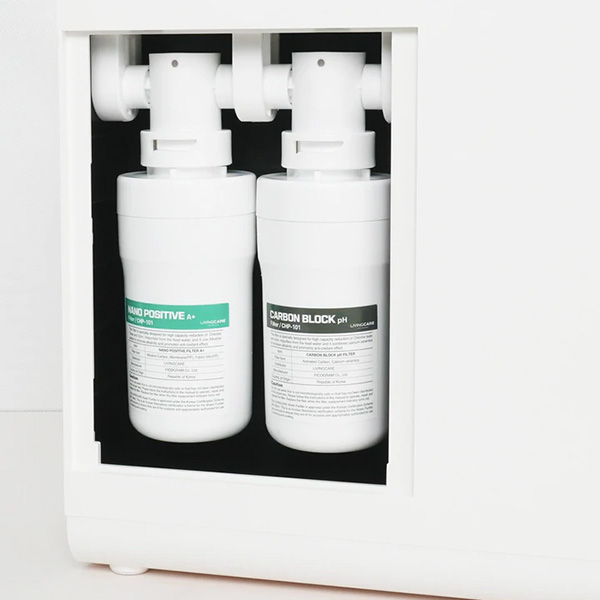 Why is my Jewel Filter Cleaning indicator in Orange/Yellow?
This show that your filters requires a cleansing.
Press and hold the ambient button for 5 secs to activate the self-cleaning function! System will self-clean the filters for 20 – 30mins, thereafter it is ready to be use! In the event that if the filter indicator is still Orange/Yellow, do contact us and we'll arrange for a servicing for you.
What's the difference between the Jewel Series & Pearl Series?
Pearl is an older model that was launched in 2015 whereas Jewel is Livingcare's latest model that launched in Jan 2021. The main difference would be the Alkaline and UV sterilisation at the nozzle area, also Jewel has more preset quantity at 120ml, 250ml, 500ml and infinity. The Jewel series is more user-friendly as well too!
Pearl and Jewel filters are 90% similar as to what they remove from the water such as chemicals, bacteria and heavy metals.
However, the Jewel series that has alkaline filters will have added antioxidants that helps the consumer to detox better, which is also equivalent to consuming fruits and vegetables .