EPIC Shine Fingerprint Digital Lock installed onto Fire Rated HDB Main Door in Singapore at $799 
With 1+2 Years Warranty 
EPIC Shine is the latest 2019 EPIC Digital Lock launch which have the mirror effect on the display panel 
EPIC Shine Digital lock suits brown HDB Main Door or those black fire rated HDB door as it will stand out from the dark surface HDB Door
However My Digital Lock is still looking for customers to invest in a  perfect HDB door to match this digital lock 
For HDB owners who are looking for a reliable and unique digital lock for your HDB Door, EPIC Shine is your perfect choice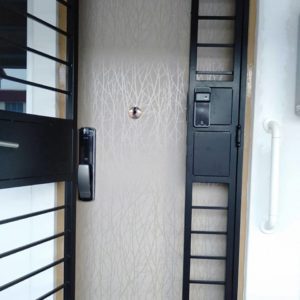 The Next Best Selling EPIC Digital Lock for HDB Door in Singapore 
EPIC Metallic Push Pull lock also have the smartphone function besides EPIC Shine digital lock
Hence, you can unlock the HDB Door using smartphone /4G/ Bluetooth and WI-FI
Also EPIC 5G Smartphone Gate lock is develop to provide a one stop solution for both hdb door and gate, unlock using fingerprint or smartphone
In My Digital Lock, We have develop many promising well design HDB Gate with Digital Lock 
Now most HDB customers in Singapore are looking for digital lock not just fingerprint but ale to unlock using mobile phone 
since 2012 to 2019, My Digital lock is the first company to manufacture so many different style and design of HDB Gate to match our digital lock 
​
Because many choose My Digital Lock, we have able to develop many design and colour to enhance our mild steel gate to match with different HDB door in Singapore 
EPIC 5G is the best seller for My Digital Lock in 2019
Throughout HDB, we have the highest amount of feedback in terms of design and able to unlock using smartphone 
These are the My Digital Lock projects which we install EPIC 5G Digital lock on various types of HDB Door and Gate 
​
Five Greatest Features 
1. Unlock using Bluetooth (keywe app) 
2. Unlock using Wi-Fi using bridge at $50 
3. 100 fingerprint 
4. Up to 100 card, 4 given 
5.. Password
Mobile app Features 
A) Time attendance 
B,) Invite guest give guest code 
C) Smart open when you walk near the digital lock
Able to delete individual fingerprint and card
Further Discount if you just need 1 year warranty
2) Epic 5G digital lock for door and gate at $799 
.
With 1+2 years warranty
Unlock both door and gate using mobile phone or fingerprint ????????????
3)Epic 5G digital lock with Keywe smartphone push pull lock at $1299,
With Free Wi-Fi bridge worth$99 for this package
Now you can unlock using 4G smartphone with 
????????????????????
Less $100 for Any My President Hotel Quality Mattress from $799 onwards with Purchase of Digital Lock
https://mypresidentmattress.com/
Free Delivery worth $150, Deliver within 24 Hours, endorse by most Singapore celebrities
Order Now and get it today 90677990 Roger (24/7) speak English and Mandarin
Call our Mobile Showroom and we will drive to show you today ????????????
www.mydigitallock2018.com.sg
Free Taxi Rebate (Twice the amount) with Any Purchase ????????
**** 2nd MY Digital Lock Showroom (Since 2018)****
51 Bukit Batok Cres, #05-14 Singapore 658077
Office: 91616282 / 81951253
**** 1st My DIGITAL LOCK Showroom(Since 2015)****
2 Yishun industrial street 1 #05-10
Office: 62620757 / 88668884
KEYWE Smartphone Push Pull Lock is another best seller in 2019 in My Digital Lock 
as More Singaporean whom purchase HDB Door and Gate, they are looking for a digital lock not just keyless entry but more features 
​Such as notification, push message and link to unlock using WI-FI or 4G when you are away from HDB 
Five Greatest Features 
1. Unlock using Bluetooth (keywe app) 
2. Unlock using Wi-Fi using bridge at $50 
3. 100 fingerprint 
4. Up to 100 card, 4 given 
5.. Password
Mobile app Features 
A) Time attendance 
B,) Invite guest give guest code 
C) Smart open when you walk near the digital lock
Able to delete individual fingerprint and card
Further Discount if you just need 1 year warranty
2) Epic 5G digital lock for door and gate at $799 
.
With 1+2 years warranty
Unlock both door and gate using mobile phone or fingerprint ????????????
With Free Wi-Fi bridge worth$99 for this package
Now you can unlock using 4G smartphone with 
????????????????????
Less $100 for Any My President Hotel Quality Mattress from $799 onwards with Purchase of Digital Lock
https://mypresidentmattress.com/
Free Delivery worth $150, Deliver within 24 Hours, endorse by most Singapore celebrities
Order Now and get it today 90677990 Roger (24/7) speak English and Mandarin
Call our Mobile Showroom and we will drive to show you today ????????????
www.mydigitallock2018.com.sg
Free Taxi Rebate (Twice the amount) with Any Purchase ????????
**** 2nd MY Digital Lock Showroom (Since 2018)****
51 Bukit Batok Cres, #05-14 Singapore 658077
Office: 91616282 / 81951253
**** 1st My DIGITAL LOCK Showroom(Since 2015)****
2 Yishun industrial street 1 #05-10
Office: 62620757 / 88668884
These project is to digitalise your HDB Door and Gate at just $599
EPIC Gate lock for HDB Door and Gate at $599 only
Then you can engage us to customize brand new HDB Door and Gate to match the digital lock 
As long as you visit our shop, we try to give you the best price for the HDB Door and Gate in Singapore to Match with our Digital Lock 
Visit our Door products in our Website while visiting Mattress products