Samsung SHP-DP609
$ 888.00
SMART IoT – WiFi Digital Door Lock (Optional)
Samsung SHP DR 609 digital lock is one of the most high end Samsung Digital Lock Amongst the entire series with the Smartphone Function
This Samsung Push Pull Digital Lock can be installed onto majority of the HDB and Condo Main Door in Singapore
You can consider matching it with our EPIC 5G Pro / 6G Gate Digital Lock however different mobile app have to be used in order to open both digital lock
Samsung SHP DP 609 digital lock have a traditional push pull handle unlike the Samsung DR 708 digital lock
Basic Functions
1. 100 Fingerprint
2. NFC (Samsung Phone Only)
3. Password
4. 2 Mechanical Keys
NO RFID CARD Features (Please Take Note)
Smartphone Function
1. Push Notification (Exclude I phone)
2. Time History
3. WI-FI Unlock
1+ 1 year Warranty Only
Be it whom you purchase Samsung SHP DP 609 Digital Lock from, all the warranty is covered by the local distributor.
Hence the warranty is standardize, first year full warranty and second year parts warranty at $90 per trip before GST
The fee is charge by the distributor hence non negotiable
Need to Purchase Local Set Samsung SHP DP 609 Digital Lock
Other Samsung SHP DP 609 digital lock you saw online is not cater for Singapore market hence you are unable to use the WI-FI Features
Or get any warranty support if the digital lock is faulty.
The Motherboard is also different as Singapore set can adapt to the humid weather
Commonly used for Condo
It can replace the existing condo roller mortise in Singapore or install it above the keyhole as shown in the photo
Many condo have purchase the latest Samsung digital lock from My Digital Lock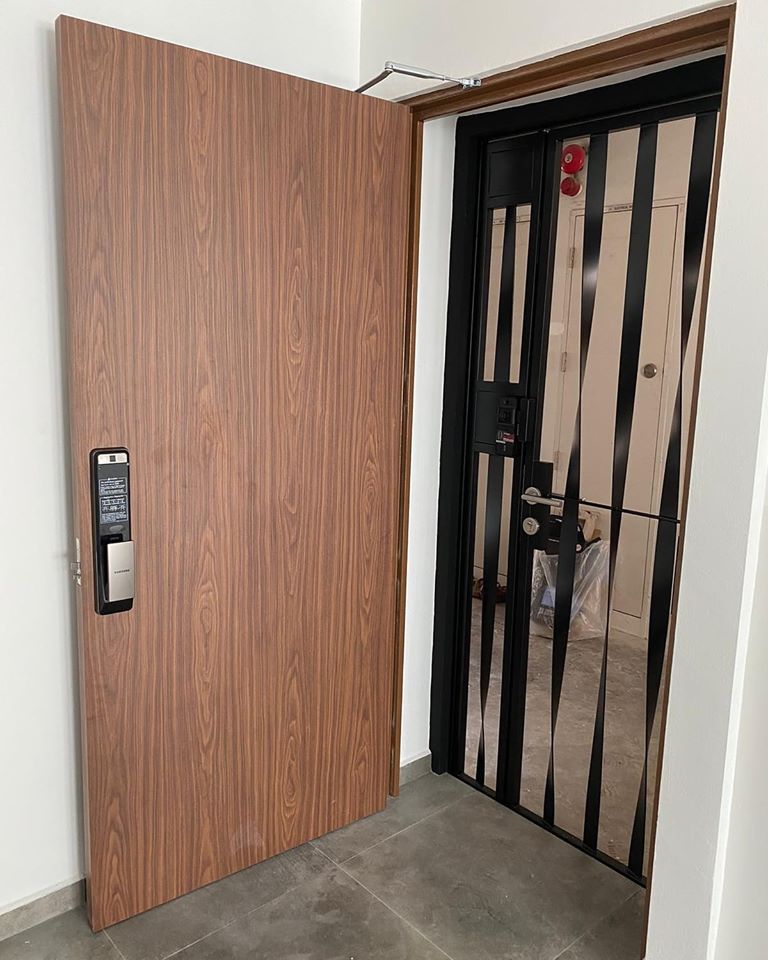 Matches with Nice Interior Designer HDB Main Door
Besides matches well with our designer HDB Main door,
Many approach My Digital Lock because they need a gate digital lock that is able to unlock using smartphone
If your fire rated main door digital lock can unlock using WI-FI  but your HDB gate Digital Lock cannot
Then what is the point of having the smartphone digital lock in the first place?
Visit our showroom to experience the digital lock
Review on Samsung SHP DP 609 Digital Lock in Singapore 7/10
Its a recommended Samsung Push Pull digital lock if you are getting for your condo main door
However if you have a HDB Metal Gate then you need to consider if you get a different brand of Gate digital lock
Then you have to change the mobile app before unlocking the door and gate
Samsung Mobile app can only unlock Samsung digital lock
Whereas our KEYWE App can unlock both KEYWE and EPIC digital lock despite different brand