EPIC 5G Satin Gold Digital Lock
$ 699.00
Best Selling Digital Lock in Japan (Made in Korea)
Able to unlock Using Bluetooth / Wi-FI Optional (6 in 1 )
EPIC 5G Digital Lock in Satin Gold is currently the best selling smartphone digital lock in My Digital Lock in 2019-2020
As EPIC 5G Digital Lock in Satin Gold is affordable, modern looking and look identical with our EPIC Gate Digital Lock
EPIC 5G Digital Lock is in Satin Gold with glossy finishing with mini pearls in it to make it look luxurious.
Also the simple and modern design fits onto any BTO / Resales HDB Main Door right above the European Mortise and Single Grip Lock
1+2 Years Warranty (3 Years Mobile App Support)
First year would be full warranty, 2nd and third year for parts warranty subjected to $80 transportation
However, our mobile application have a server themselves, therefore if you face any difficulty in the mobile app, our Korea partner will be able to assist you
Unlike other smartphone digital lock. Our Digital Lock connects the bluetooth through your mobile data 4G / 5G
Functions & Features
1. 100 Fingerprint
2. Up to 20 Cards
3. 1 Master Password
4. 1 User Password (One time Password send remotely)
5. Bluetooth
6. WI-FI (Optional)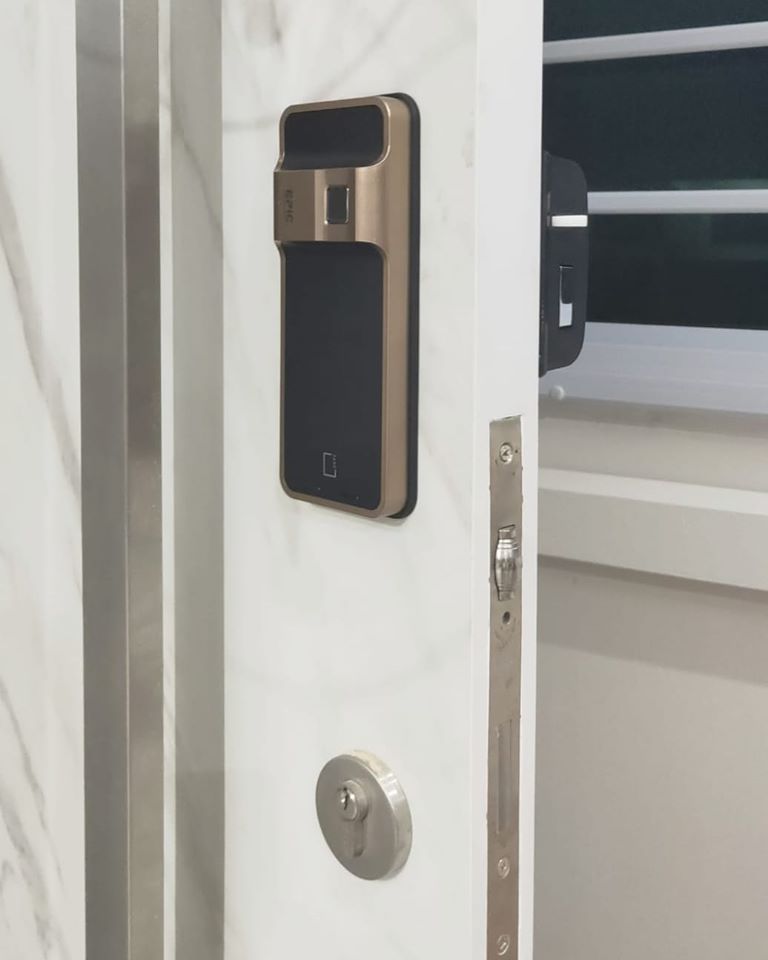 Matches with our Brand New Interior Designer HDB Main Door
Majority of the customers whom purchase a NEW HDB Fire Rated Main Door or HDB Gate they would consider getting this digital lock for both
As you can see the EPIC 5G is actually in Satin Gold with pearl,
Majority of the HDB owners would like to install them onto a black designer HDB Main Door or HDB Gate
We have featured after it is been installed onto White Marble or Black HDB Door, most of the projects look perfect
Besides the design the paint coating, EPIC 5G Digital Lock is the most affordable rim digital lock with the nicest design and most features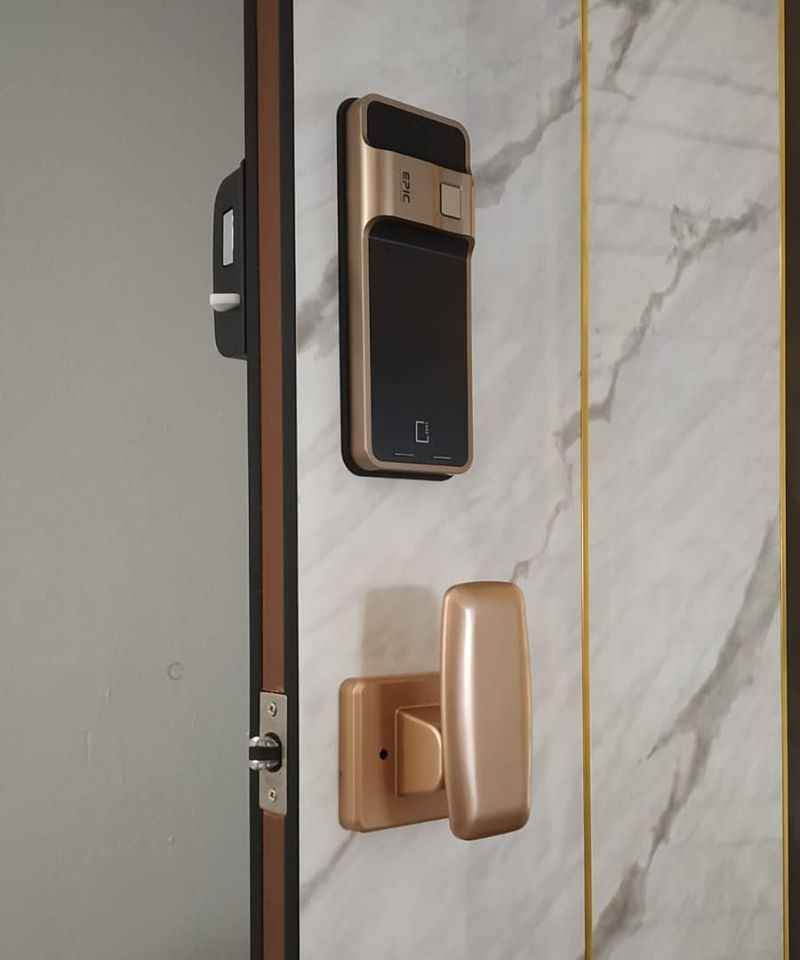 Unlock EPIC 5G Digital Lock using Smartphone
Most of the time, when you enter your home, all you need is to scan the fingerprint, card or key in pin number to unlock
However some of times, you will be away from home, therefore you can give access to the delivery man, house keeper, relative or guest
By sending a guest key with time zone features, indicating the specific date and time
After they unlock, you will receive a push message or notification
The time attendance can be downloaded through desktop.
Otherwise Unlock using WI-FI by adding $50 to Wi-Fi Bridge
Note: The Wi-FI Bridge depend on your Wi-FI Strength and speed.
IF unable to connect relocate the Wi-FI Bridge to other location and it should work
Review on EPIC 5G Smartphone Digital Lock in Satin Gold  8/10
At the price of $499 you can get all the features with this digital lock with 1+2 years warranty
So it is affordable and value for money in the market. We have sold more than 5000 pieces of EPIC 5G Digital Lock
Also this lock have gone through several development and improvement, now its the 3rd edition already
This EPIC 5G Digital Lock take up 70% of our sales in My Digital Lock SIngapore
As the owner of My Digital Lock i shall rate it 8/10,
Because of its unique color, more HDB owners would prefer something different from other digital lock