Veneer Fire Rated HDB Main Door Single Leaf 3×7 Feet
$ 1,099.00
When do i need to purchase a Fire Rated HDB Main Door?
if your HDB unit is beside the stair case or lift, then you are required to get a HDB Fire Rated Main Door
As when there is an emergency fire break out, your HDB Main door are required to prevent the fire from spreading to your neighbour house for at least 1/2 hour
The purpose of the fire rated HDB main door is not to protect you but your neighbour, and prevent the fire from spreading to other units
3 Items you will purchase a fire rated main door
1. Fire Rated Certificate
2. Fire Rated Sticker label as SETSCO (to be paste onto the fire rated HDB main door)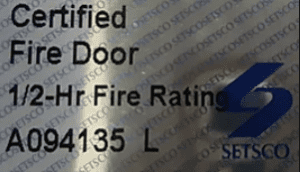 3. Fire rated door seal ( a rubber stripe beside your fire rated door)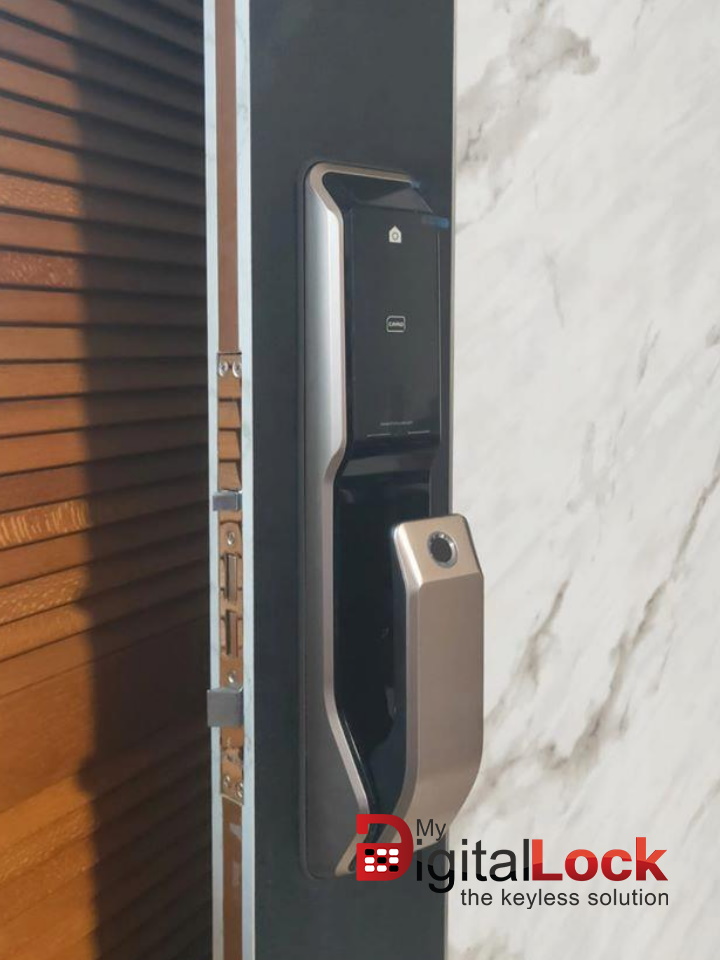 At the side of the fire rated door, there will be a rubber seal, when there is a fire, the seal will expand and fill up the gap between the door frame and door
Hence the seal will prevent the fire from escaping out of the HDB main door
It is a must to install such door seal otherwise fire rated certificate or sticker will not pass down for approval
Is EPIC Digital Lock Fire Rated? (Korea Fire Test for 1 hour)
In Singapore, digital lock fire test is not popular as digital lock is relatively new in the market therefore there is a lot of interpretation
However, EPIC is the best selling digital lock in Japan, also we have Vietnam, Thailand, Malaysia, Mexico, Dubai, India, Indonesia , Taiwan, Hong Kong , Philippines , Maymmar, Laos and many more
Most of the countries EPIC digital lock were used in condo projects, government sector and even shipyard.
Therefore all our EPIC digital lock have to pass the Korea 1 hour fire test to ensure the lock is still in the lock position during the fire takes place
Also an alarm will trigger to notify you if the digital lock hits 75 degree and above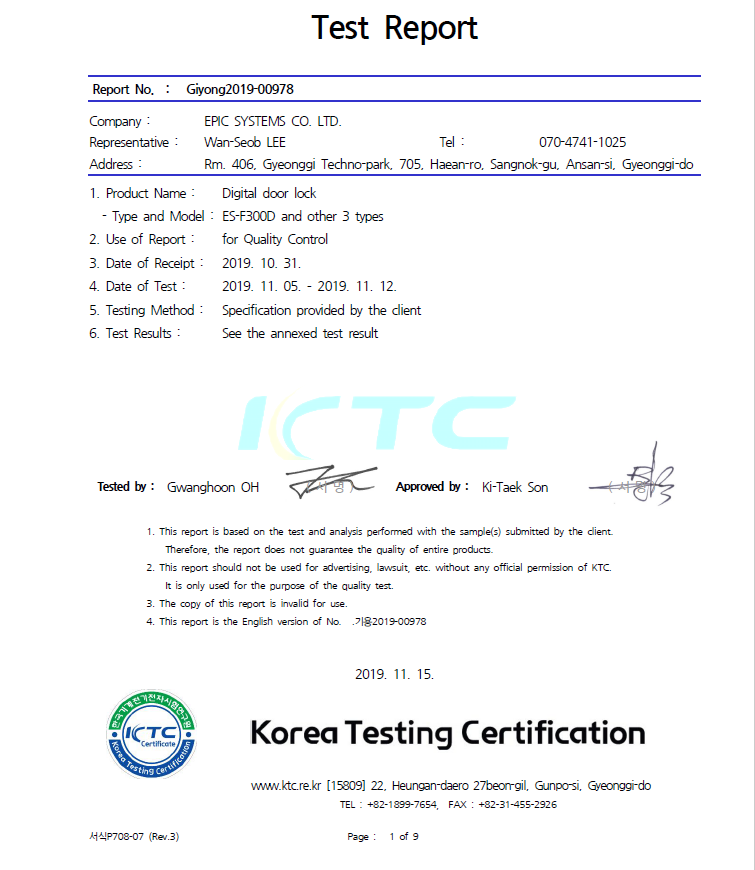 EPIC 5G Digital Lock Fire Test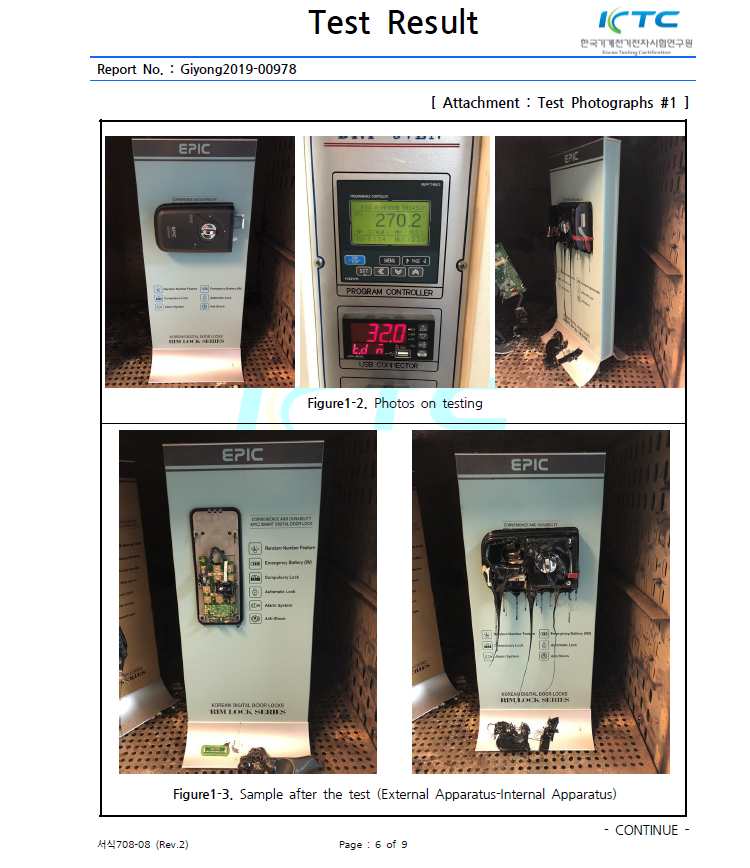 EPIC 5G Pro Digital Lock Fire Test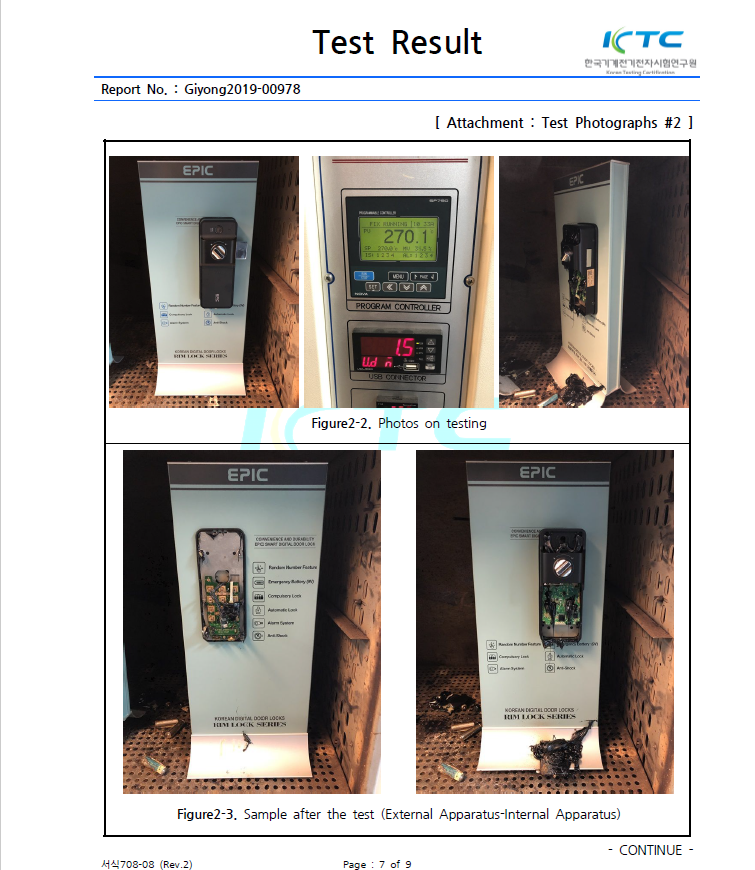 EPIC 5G Pro Gate Digital Lock (Fire Test)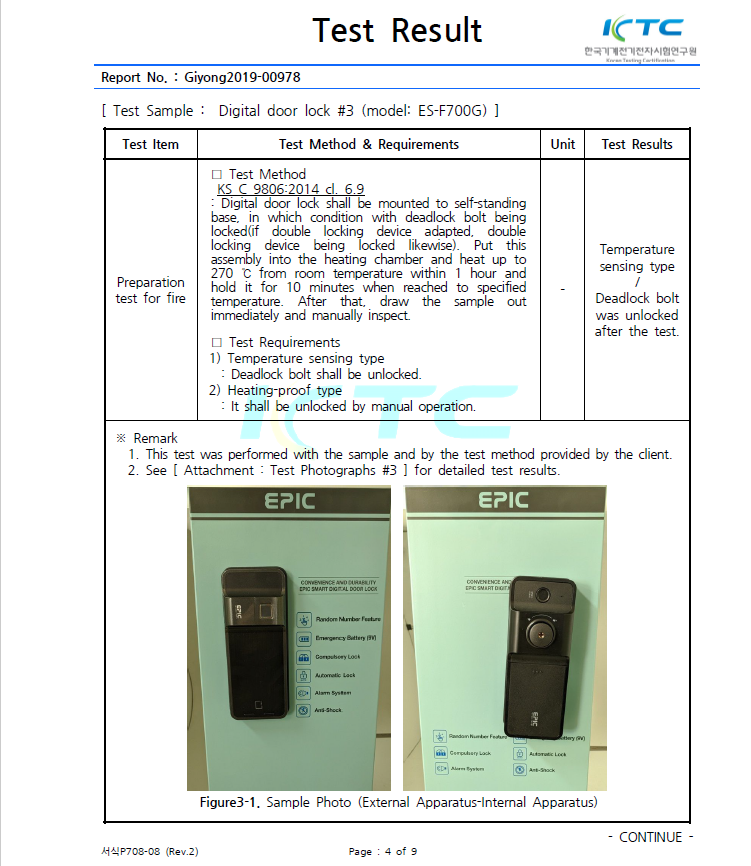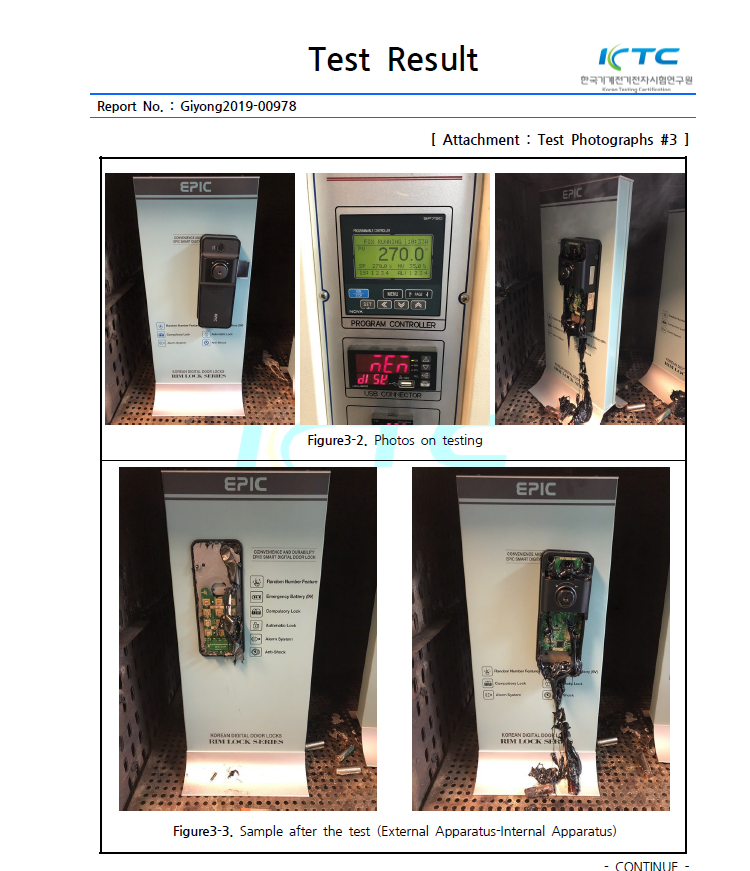 EPIC Push Pull Digital Lock (Fire Test )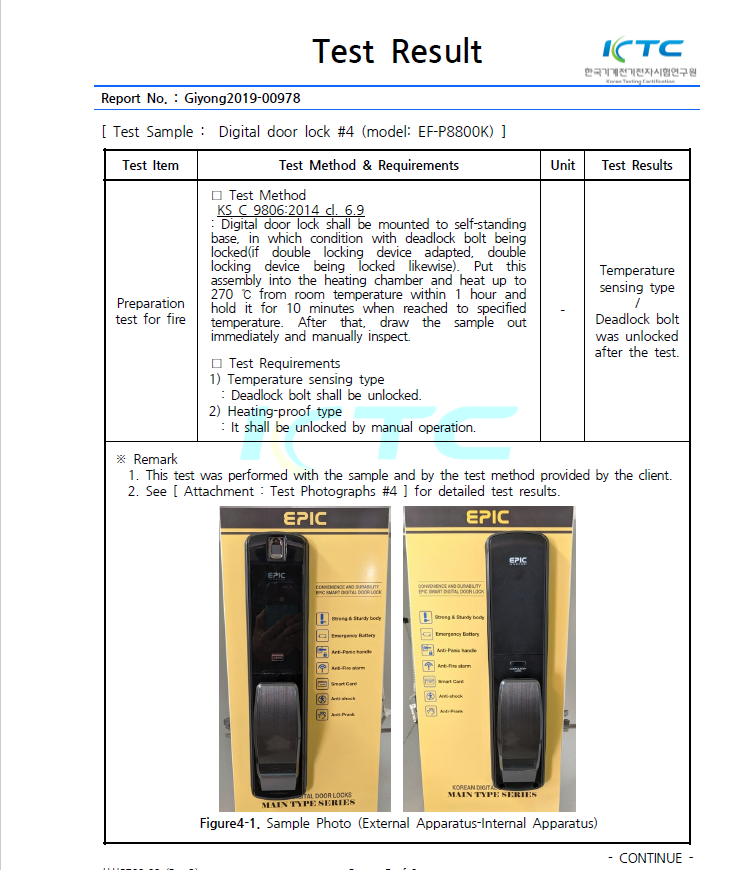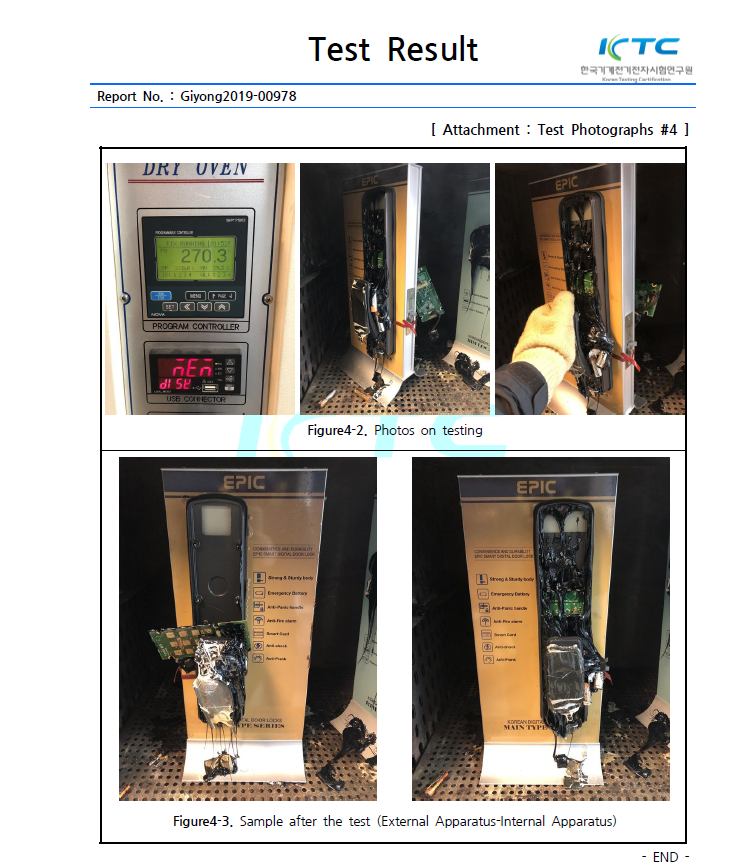 Veneer HDB Main Door ( Up to 100 Designs)
Veneer is an engineer wood with dyed color, hence it still have the properties of wood element
We will lacquer one layer of protection to ensure it can withstand rain fall or rain shine for one year
If your HDB unit expose to heavy rain or sunshine, it is recommended to vanish at least once every 1 to 2 years
Once the veneer do not have the laquer the color will fade away and crack might occur
Therefore, after 2017, this type of door have been seldom sold across the market due to the maintenance and wood properties
Also any slight knocking or scratches by pets will leave a deep scar on the veneer door. However you can recover them by sanding the surface and vanish the entire HDB Main Door
All the veneer wood color can be found in our showroom for you to customize your door to match into your renovation
Discontinue in the market soon
As veneer is getting less popular, the skin and the types of color may discontinue and also different batch of veneer , color or grain might be different
Therefore in future if you want us to warranty the door, or to make additional pieces, we might face some difficulties
7% GST Absorb + 3% Credit Card Charges Waived
All Door factories either charge GST seperately or does not accept VISA payment.
We do not want to add in hidden cost to make you unhappy
Also we try to match all best price in the market with lots more to offer
$100 Discount on HDB Fire Rated Main Door with Purchase of Any Digital Lock
We encourage everyone to get a digital lock when they purchase a new HDB Fire Rated Main Door as the door is brand new
$1000 Discount Reward + Free Gifts (Exclusive)
$100 discount with purchase of Any Digital Lock

$50 discount on HDB Gate or Gate Digital Lock

$200 Discount on My President Mattress

$50 to $100 Discount with purchase of bedroom Door

$50 Discount with Purchase of Toilet Slide and Swing Door

Any purchase more than $2000, will receive a Free Deposit Safe Box worth $149

Any Purchase more than $3000 will receive a Wireless Vacuum Cleaner

Any Purchase more than $4000 will receive a Free Mattress / a Free Digital Lock

$100 Discount on any Fire Rated Safe

$100 Discount on Massage Chair
Add Additional Veneer of your Choice at $200
( Free Stainless Steel Lines worth $100-200)
We encourage HDB owners to design the nicest HDB Main door with us as we are looking towards to build more designers HDB main door
To enhance our EPIC Smartphone digital lock
Therefore, we decided to waived off the stainless steel lines charges to encourage you to build the nicest HDB Door in Singapore
Since you have intend to invest to beautify your HDB enterance by changing the HDB Door and Gate, we shall assist you all the way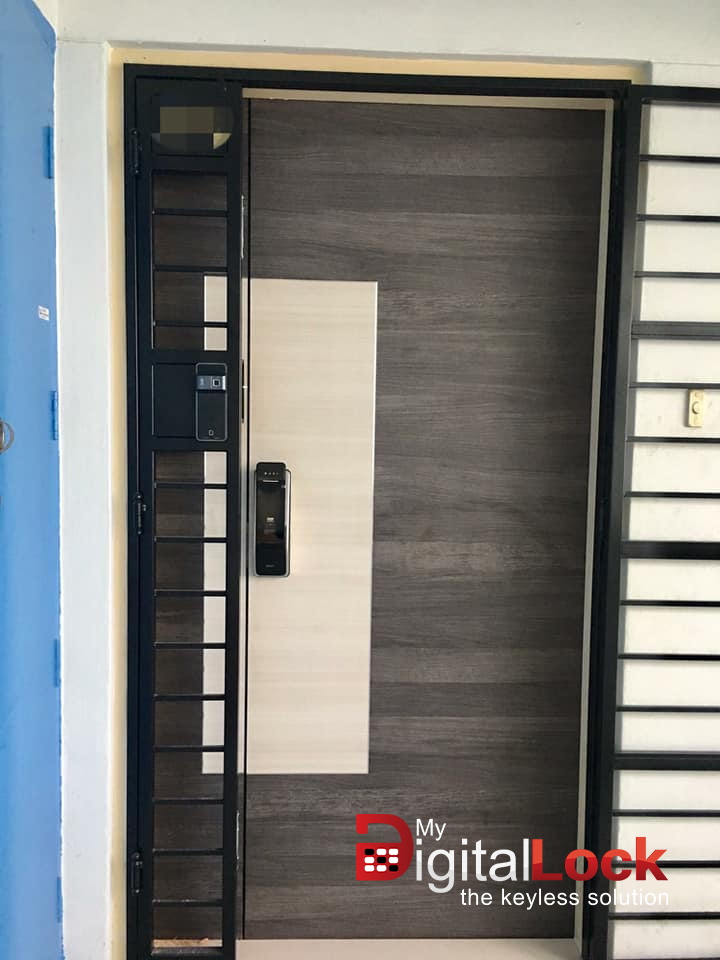 HDB Main Door Accessories
Single Grip Lock

Magnetic Stopper

Fire Rated Door Closer ( If you add $300 for Fire Rated Door )

Four Door Hinges

Normal Door Viewer
HDB Main Door Price Inclusive of
A. Measurement of Door
B. Installation of HDB Main Door
C. Disposal of old door for FREE (Worth $30)
1 Year Warranty for HDB Main Door
Due to the few in demand, such door can be hardly found and warranty might be a problem due to supplier issue
However wear and tear / scratches are not part of warranty
Painting / Vanish of HDB door frame (Goodwill)
$120 First Door Frame , $80 for the subsequent HDB door frame
You can pay directly to the painter. As we only engage experience painter
Add $100 for Silver Stainless Steel Design (Up to 4 Lines)
For Veneer HDB Main Door, My Digital Lock only offer silver stainless steel lines
Visit our showroom to discuss with our door designer